Packing to move in Vancouver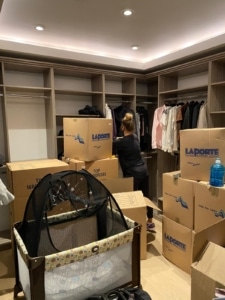 Harmony Home Organizing
Common Moving Mistakes and How to Avoid Them
Let's face it, packing and moving can be stressful and downright overwhelming. It's easy to look around our homes and think, "I can totally do this myself! We don't have much stuff! We can get this packed in a day!" While it is possible to pack and move an entire home yourself, you have to ask, is it really the best choice? Read on to find out how to avoid some of the most common moving mistakes.
Hire Professionals
Many of us have very little extra time, and packing and moving to a new home is no small feat. Hiring professionals can make or break your move. Many types of specialists can help, depending on your needs and budget. Professional movers can safely and efficiently move small, large and fragile items. Professional house packers have the skills and tools to pack an entire house in a day. You may also want to consider hiring a professional for unpacking and organizing services, move-out cleaning services, or handyman services.
Plan Ahead
Whether you rent or own your home, it is a good idea to start planning as soon as you know you will be moving. Once you decide whether you will be renting a moving truck or hiring movers, you can start looking around at all options. Contact local moving or rental companies for estimates and to check availability. Some months are busier than others, and you don't want to be left trying to locate a truck or paying more than you should at the last minute.
Tackle the Little Things
We often accumulate a lot of stuff without realizing it, and rarely used items get tucked into drawers, closets, and cupboards. Declutter and consolidate items in your home before you start packing. You will save time and energy in the long run by not moving items that you no longer use. Not sure where to start? A professional organizer can provide you with tips and tricks to make packing day easier.
Label Properly
Labelling is an important step that often gets overlooked. To make unpacking a smooth process, make sure to label your boxes properly. Identify which room each box belongs in (kitchen, bathroom, dining room, etc.) and note the items in the box (plates, cutlery, photos, etc.) As professional organizers, we have mastered the art of packing and labelling boxes and use a colour-coding system to ensure your move-in is as smooth and seamless as possible.
Pack a Moving-Day Bag
Pack a small bag or suitcase with the essentials, such as a change of clothes, medications, toiletries, and snacks. Having these items handy will save you from having to sort through a bunch of boxes to find the one thing you need.
Use these tips to avoid simple yet common mistakes, and save yourself time, energy, and a lot of stress. In need of packing services in Vancouver? We would be happy to help with your upcoming move. Contact us today for a free phone consultation, and let us bring harmony into your new home!
Сall us for a consultation