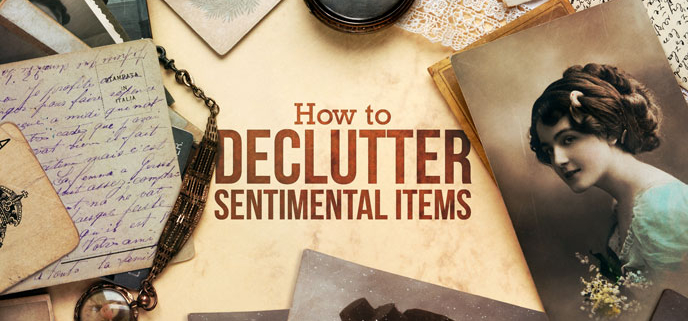 Sentimental Items – To Keep or Not to Keep?
Sentimental items are those that evoke memories or specific feelings. They can be anything from photographs, mixed tapes from your first love, tickets from a special concert, to the outfit your newborn wore home from the hospital. We all have at least a few nostalgic belongings stored somewhere in our basement or tucked away in a closet.
Some people are more sentimental than others and will hang on to every little item that evokes a memory. So, what do you do when these items are taking up much-needed space in your home? Let's have a look at ways to organize and declutter those precious items.
Organizing
If you are already in the process of decluttering your home, I suggest leaving the sentimental items until the end. Organizing sentimental items takes more time and can bring back a flood of memories and emotions. Not rushing the process will ensure you are at peace with the decision and don't have any regrets.
Set a clear goal and designate a daily time limit. Your goal may be as lofty as going through every bin or as simple as sorting through old photos. Looking through items with significant sentimental value can be exhausting, so setting time limits will ensure you don't get burnt out. Dedicate two hours per day for the next few Sundays or an hour per evening for a week or two. Remember, there is no need to get it all done in a day—it's not a race!
Declutter
As you go through each group of items, decide which are the closest to your heart and which you can discard. Pick one or two special items, then decide what to do with the others. Can the item be repurposed, donated, or gifted to friends? Are there other ways to memorialize objects you may struggle to discard?
Digitalize Photos
Physical photos can take up a lot of space. Discard any duplicate, blurry, or unrecognizable photos. Then consider your options for digitalizing. A high-quality scanner will allow you to send digital copies to your computer and save them to Google Drive, iCloud, or an external hard drive. If you're not up for DIY-ing this project, there are many photo scanning services available.
Rehome or Discard
So, how do you get rid of sentimental clutter? It is easy to tuck items away in a box, but eventually, those boxes start piling up. Things like baby clothes and toys may bring back some great memories, but they serve no purpose just sitting in a box in the basement. Consider donating the items or giving them to a family member or friend who can use them.
Memorialize
Are you finished decluttering but find you still have too many things that are hard to let go of? Why not memorialize them instead! Photograph the item to create a scrapbook or a digital document, and jot down a note about the memory and the feelings associated with it. Doing this ensures you can keep the memories and feelings without the added clutter.
While organizing and decluttering sentimental items may be an arduous task, it can also be rewarding and even cathartic! Come up with a plan, set your goals, and remember, take your time.
Not sure where to start? Let us help you clear your sentimental clutter, organize your space and bring peace and harmony to your home. Contact us today for a free phone consultation.
https://harmonyhomeorganizing.ca/wp-content/uploads/2021/11/decluttering-sentimental-items.jpeg
329
688
webadmin
https://harmonyhomeorganizing.ca/wp-content/uploads/2019/10/HHOlogo-white-300x103-300x103.png
webadmin
2022-01-20 08:00:08
2022-06-15 03:24:11
Sentimental Items – To Keep or Not to Keep?