Harmony Home Organizing | Professional Home & Office Organizer
Call today for a free phone consultation 604-446-3939
We work in Vancouver, North Vancouver, West Vancouver, Richmond, Coquitlam, Port Moody, Port Coquitlam, Surrey, Langley, Delta, White Rock, Abbotsford, Squamish, Whistler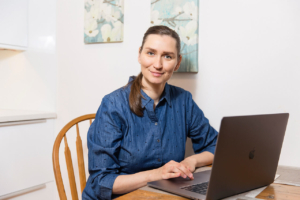 With the advancement of technology, many of us have found ourselves working from home. Long commutes from home to the office have now become from the office to the kitchen and back.
Traditionally, offices were shared spaces and were often already set up but now it is up to each person to set up and organize their offices on their own. An organized office can make the difference between being productive and feeling relaxed to being flustered and feeling overwhelmed.
If you don't look forward to heading into your home office, our team of professional organizers in Vancouver can help! Keep reading for our top tips for organizing your home office.
Declutter
The first step to organizing any space is to declutter. Home offices often become cluttered by papers, notes, old magazines, and office supplies. Go through everything in the office and remove what is no longer needed. Get rid of dead pens, bent paper clips, and used post-its and envelopes.
Use Appropriate Furnishings
Often, home offices can feel smaller and more cramped than they are because the furniture is too large or unnecessary. Consider the furnishings within your office and decide whether it is time to downsize or switch them up. Invest in quality pieces that will serve your needs. You can get great deals on gently used, stylish office furniture at a thrift shop or even on Facebook Marketplace.
Don't Let Your Desk Become a Dumping Ground
It's really easy for desks to become cluttered, but you'll want to keep this space as clutter-free as possible. A cluttered workspace is distracting and can be overwhelming. Think of the items you use the most often (such as your laptop and a notebook) and store all other items away. Keep large office equipment, such as printers, on a shelf or sideboard.
Create Effective Storage
Use desk drawers, filing cabinets or a sideboard unit to organize office supplies. Drawer inserts, baskets and storage boxes are useful in keeping all the little things such as pens, paperclips, and post-its tidy. Adding shelving and drawer systems to a small closet space also increases storage. Floating shelves are a great option in smaller spaces and create endless opportunities for storage. They can be used to display artwork, hold baskets or stylish storage containers.
Keep it Together
Designating separate spaces (even if it's a single drawer) for items is crucial to staying organized. Create a designated space for office supplies to make them easy to find and easy to see when something needs to be replaced.
Call in the Professionals
If you've become overwhelmed or if you're in the beginning stages of creating your home office but don't know where to start, it may be time to call in the pros.
As professional organizers in Vancouver, we can make quick work of reorganizing and creating a home office space that is functional and that you will love. We have the tools and knowledge to help set you up. Our handyman will install shelves, units, or bookcases, making it a seamless project.
So, what are you waiting for? Contact us today for a free phone consultation, and let us bring harmony to your home office.
https://harmonyhomeorganizing.ca/wp-content/uploads/2022/09/home-office-organizing.jpg
853
1280
webadmin
https://harmonyhomeorganizing.ca/wp-content/uploads/2019/10/HHOlogo-white-300x103-300x103.png
webadmin
2022-09-02 01:21:18
2022-09-12 09:54:13
Organizing Your Home Office