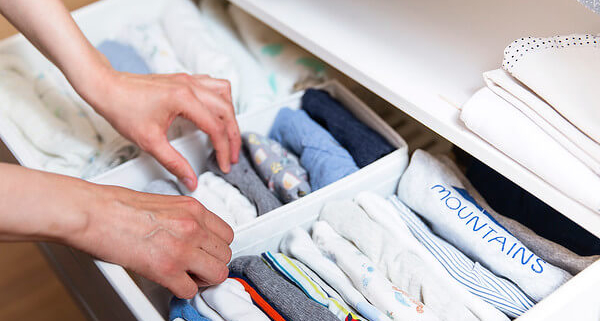 How to Keep Baby Clothing Organized
If you have children, you know how quickly their clothing can accumulate and how easy it is for their drawers and closets to start overflowing.
Those cute little outfits can quickly become disorganized and make it hard to find the item you want. Nothing is more frustrating than when an item ends up at the bottom of the dresser, and by the time you find it, your baby has outgrown it!
Below are our top tips on how to organize those baby clothes.
Use Dresser Dividers
Using a dresser in your nursery can be one of the best ways to organize baby clothes. Dedicate a drawer for each type of clothing. The top drawer can be used for socks and undershirts, the middle drawer for pants and shirts, and the bottom drawer for pyjamas. Dividers like these will make it simple to keep each clothing type in its spot.
If your nursery is on the smaller side, a dresser can be stored in the closet or double as a changing table. In that case, use dresser dividers to separate diapers and wipes from socks and undershirts in the top drawer.
Add Extra Rods and Use Baby Clothes Hangers
Most closets are designed for adult clothes, so adding an extra rod or two in your nursery closet can triple the amount of clothing you can hang. Organize clothing by category and size to make it easy to find what you are looking for. Use baby clothes hangers for your baby's delicate clothing to keep them looking nice.

Sort by Size
Baby clothing from different brands will come in different sizes. Some brands will have sizes 0-3, 6-9, and 9-12, while others use a bigger size range, such as 0-6 and 6-12. Keeping only the current size your baby is wearing in the closet and dresser will help you stay organized. Use clear bins or baskets to store larger-sized clothes, and as your baby grows out of one outfit, you can replace it with a larger one.
Use Bins to Store Outgrown Clothes
If you plan on keeping outgrown clothing for a sibling or friend, storing it in a clear bin will help you stay organized. Label bins and store them for future use. If you're short on storage space, smaller and larger clothing can be stored neatly under a bed or crib in these storage bags.
If you don't plan on keeping clothing, consider donating or selling. In the Vancouver area, there are many consignment shops specializing in baby clothes. If you prefer to donate, organizations such as Baby Go Round will accept donations of gently used baby clothes.
Are you still feeling overwhelmed and unsure of where to start? Contact us today for a free phone consultation. Our organization professionals would be happy to get you organized and help bring harmony to your nursery.
https://harmonyhomeorganizing.ca/wp-content/uploads/2022/05/organization-baby-clothing.jpg
422
600
webadmin
https://harmonyhomeorganizing.ca/wp-content/uploads/2019/10/HHOlogo-white-300x103-300x103.png
webadmin
2023-05-06 01:25:25
2023-10-18 07:17:41
How to Keep Baby Clothing Organized