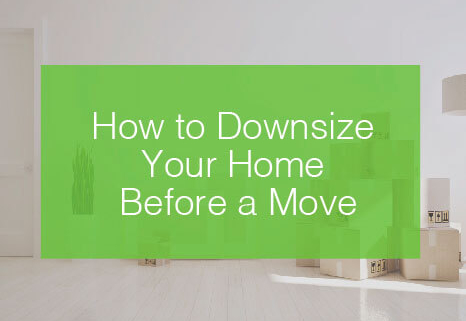 How to Downsize Your Home Before a Move
Living in a large house is great for some families, but for others, the cost and effort of maintenance is a burden. This is especially true after your kids have grown up and moved out. If you're overwhelmed in your current home, moving to a smaller space can be a great move both financially and mentally.
However, decluttering and downsizing can be a daunting task. Downsizing to a smaller home and need some help getting started? Follow our best tips for a stress-free move.
Take Inventory of Your Belongings
When you're downsizing to a smaller home, you naturally won't have as much space for all the items you've accumulated throughout the years. Before you start packing, you'll need to take inventory of your belongings.
As you sort through everything, it's important to separate aspirational items from the ones you actually need. If you come across something you haven't used in the last year, you should probably get rid of it. And if you didn't even know you still had an item in question, it's definitely time to let it go. The purpose of downsizing is to simplify your life, so take only what you need with you.
Sort Through Items Room-by-Room and Minimize Duplicates
As you go through your belongings, you'll need to set up a system to stay organized. We recommend the Three-Box Method, which forces you to make a decision item-by-item. Gather three boxes or bins and label them as "Keep," "Get Rid Of," and "Put In Storage."
You should keep items that are useful in your daily life. Once you've filled your "Keep" box in each room, you can pack it up and label it to make moving and unpacking easier.
Get rid of items that you no longer have a use for. Once you've defined the items you're getting rid of in each room, you can sort them further by identifying what will be donated or passed down to family members, and what is worn or broken and should be thrown away.
Sentimental or seasonal items should be put in storage. After you complete each space, empty the "Put In Storage" box into neatly labeled storage containers.
Make the Most of Your Storage Spaces
When you're downsizing to a smaller home, it's important to maximize any storage space you have. While not every home has designated storage areas like a basement, attic or garage, here are some general tips to keep in mind:
Create built-in storage options whenever you can. Multifunctional furniture such as storage ottomans, platform beds with drawers, entertainment centers, wardrobes, bookshelves and baskets are all helpful for hiding and minimizing clutter, but traditional shelving units are always a great option too.
Use open wall space. Floating shelves are great for displaying knickknacks around the house, as well as adding storage in your kitchen, bedroom and bathroom.
Take advantage of hidden storage spaces. Utilize extra areas in your new home, such as under the stairs, closets and crawl spaces to store seasonal or sentimental items. Add floating shelves or cubbies, and stack clear plastic bins in these hidden spots to make the most of the space and easily find what you need. You can also get creative with adding storage to small bathrooms by adding over-the-door hooks, towel racks, standalone shelves and bins for under-counter storage, an over-the-toilet shelving unit and a medicine cabinet.
Eliminate the stress of rushing to purge everything. Hire a professional service to assist with clearing out your house and moving into your new home.
https://harmonyhomeorganizing.ca/wp-content/uploads/2021/11/downsizing-for-a-move.jpg
329
466
webadmin
https://harmonyhomeorganizing.ca/wp-content/uploads/2018/02/HHOlogo-white-300x103.png
webadmin
2021-11-21 08:23:54
2021-11-21 08:46:02
How to Downsize Your Home Before a Move