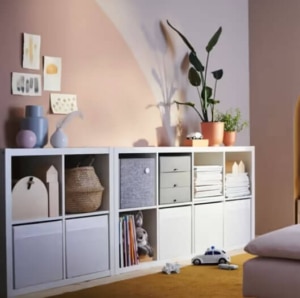 Common Clutter Hotspots and How to Keep Them Organized
As a professional organizer, I have helped many clients with the clutter hotspots around their homes. By using creative solutions to increase storage and incorporating practical decor, anyone can make a small space feel larger.
Harmony Home Organizing was selected by Redfin as a top Vancouver, BC, decluttering expert. See the Redfin article we were featured in: Make Room for the New:Experts Share 16 Life-Changing Ideas for Decluttering and Organizing Small Spaces| Redfin
 We have gathered some tips and tricks below to help you keep these spaces in order
Entryway
Small entryways can become disorganized quickly, especially in the winter. Shoes, boots, mitts, toques, and bulky jackets can take over. Installing double rods to your closet with a sleek unit such as IKEA's Hemnes Shoe Cabinet will increase your storage space by over 50%. Add a small decorative dish or basket on top, and you now have a spot for wallets, phones and keys.
Hall trees are a great option if you have space. A coat rack or storage bench may be the perfect solution for a small entryway. Consider using all that empty wall space by hanging baskets, shelves, a key organizer, or coat hook, increasing storage and helping you stay organized.
Living Room
Ikea's Kallax units are a great solution to conquering a cluttered living room. Organize books, electronics, arts and craft supplies, children's toys, or board games. Adding the Drona box is a great option to keep smaller items organized. Get creative by using each second square to display plants, photos, or other beautiful decor items.
A well-organized living room will allow you to get the most use out of your space without feeling overwhelmed. If you have children, you probably understand how disorganized this space can become when it becomes overrun with toys or games. Implementing functional storage allows your family to use this space to its fullest potential without becoming a clutter hotspot. As a bonus, children will start to learn the skill of organizing and tidying when they know exactly where certain items belong.
Kitchen
The first step to keeping your kitchen and cabinets from becoming a clutter hotspot is to minimize. Start by emptying all cabinets onto your counter or table, then declutter similar items. Perhaps you have a few mixing bowls of the same size, too many large cooking utensils, or a mug collection has now become sentimental clutter!
Once you've decluttered the items, it's time to get creative with your storage solutions. Consider displaying your mugs on wall racks that add to your decor or increase the useable space inside your cabinets with simple shelves. Use a lovely kitchen utensil holder to open up drawer space, and replace your knife block with a magnetic knife holder to open up counter space. If space permits, hanging pots and pans from the ceiling over an island is another way to maximize your small space and declutter your cabinets.
Garage
Garages often become a clutter collection area for many things. Despite being a large area, the storage potential in most garages is underused. Instead of letting items pile up on the floor, solutions such as Overhead Garage Storage Racks help you stay organized. The racks are great for storing seasonal items, such as holiday decorations, off-season sporting gear, or camping equipment. Products such as Monkey Bars are a fantastic way to store bicycles and other sporting equipment, keeping them neatly organized and preventing damage.
As you can see, there are various storage solutions to tackle any clutter hotspot you may encounter. Being creative and utilizing spaces in your home that would otherwise go unused, it will be easier to stay organized and prevent the clutter hotspots from popping up.
If you're still struggling to organize the clutter around your home, consider hiring a personal organizer for either in-home or virtual organizing appointments.
Contact us today for a free phone consultation, and let us bring harmony to your home.
https://harmonyhomeorganizing.ca/wp-content/uploads/2022/01/home-organizer.jpg
525
529
webadmin
https://harmonyhomeorganizing.ca/wp-content/uploads/2019/10/HHOlogo-white-300x103-300x103.png
webadmin
2023-01-19 01:53:21
2023-10-18 06:57:21
Common Clutter Hotspots and How to Keep Them Organized